Overview of the Environment
Geographical Location of Penghu County
Penghu County is surrounded by the sea, and is located in the Taiwan Strait southwest of Taiwan. Featuring a total area of approximately 127 square kilometers, Penghu County is composed of 64 small and large islands, among which Penghu Island is the largest. Located between Taiwan and Mainland China, Penghu County enjoys the advantages of a favorable geographical location and harbors. It has served as a military hub for the government and a critical mid-way stop for immigrants. In addition, it was one of the first areas in Taiwan to be developed, giving it a wealth of history, culture, and ancient monuments.
Planning and Population of Penghu County's Administrative Areas
Penghu County has one city and five townships, which are Magong (City), Huxi Township, Baisha Township, Xiyu Township, Wang'an Township, and Qimei Township. Magong and Huxi Township are located on Penghu Island. Penghu County has a population of approximately 93,000, roughly equally distributed between males and females. Penghu County' residents occupy 20 of the 64 islands, which have an average population density of 729 people per square kilometer. Approximately 54,000 people live in Magong, which has a population density of 1,584 per square kilometer.
Education
Currently, Penghu County has one university (National Penghu University of Science and Technology), one high school (National Magong High School), one vocational school (National Penghu Marine & Fishery Vocational High School), 14 junior high schools, and 40 elementary schools. Most of the schools are located in Magong.
Landscape, Culture, and Ancient Monuments
Penghu County's unique geography, environment, and climate have led to its highly distinctive ecology and history as well as remarkable capacity for tourism development. Penghu County is a popular tourist attraction for visitors from Taiwan, as well as a tourist destination that has attracted numerous visitors from abroad.
Penghu County has more than seven hundred years of history. Its rich history of transformation is one of the key reasons for its attractiveness to tourists. In Penghu County, tourists will be able to witness the wind-resistant designs of traditional buildings (e.g., Sanheyuan), the old stones and indigenous building materials used, tribal cultural attractions, historical houses, old streets, ancient temples, and various unique religious artifacts. In addition, because Penghu County once served as a base for military operations, innumerable military artifacts have been left behind for tourists to see and appreciate.
Diversified Tourism Resources
Unspoiled waters and golden beaches provide Penghu County with the optimal resources for developing marine amusement parks and water sports. In recent years, the county has hosted a variety of events and competitions including windsurfing festivals windsurfing races, Penghu Bay-crossing swimming events, and world cup sailing competitions, attracting talented participants from home and abroad as well as tourists to watch the events and competitions.
Penghu County has a long history of culture and development. Literature has shown that the county's developmental history can be traced back as early as 1281. Modern archaeologists examined unearthed cultural artifacts and discovered human activity in Penghu County as far back as four to five thousand years ago. Therefore, Penghu County possesses diverse cultural resources that embody its local characteristics. They have subsequently become precious cultural attractions and the perfect materials for developing Penghu's tourism industry.
Penghu County has approximately 22 registered ancient monuments, many of which have been certified by the government as level one ancient monuments. In addition, the devoutly religious island residents have built 165 local temples. Awe-inspiring cultural assets related to marine culture, such as shigandang, Bagua mirrors, turtle-shaped offerings, and king boats, can also be found. Furthermore, examination of the practice of creating settlements around agriculture has become an excellent method to study the history of Penghu County. The special history and culture of Penghu County have given birth to countless local artists and artifact collectors, showcasing the extraordinary qualities and artistic values of the Penghu people.
The distinctive characteristics of Penghu County have contributed to its blooming tourism development. Penghu County offers the best tourism services by establishing a number of distinctive artifact museums, museums, and service centers, providing tourists with exceptional resources and tourism information.
In 2016, Penghu County attracted 108,000 tourists. Because of the county's favorable interaction with companies related to tourism, businesses such as Want Want, airlines and companies located in Kaohsiung including China Steel Corporation, Kaohsiung Rapid Transit Corporation, Horizon Yachts, Argo Yacht Club, Kaohsiung Computer Association, President Department Store, and the Grand Hotel have all contacted the county magistrate after 2015 to discuss potential development and investment opportunities. These opportunities open up new possibilities for Penghu County's tourism industry. To continue expanding Penghu County's tourism industry internationally, relevant government departments will continue to endeavor to manage and promote Penghu County's investment environment. The goal is to attract more domestic and foreign financial groups to invest in the county.
Penghu County's transportation facilities include airports, ports, and a land transport network. Some of the key construction projects launched in recent years include: 1. Desalination plants; 2. Low carbon constructions; 3. Renewable energy; 4. Penghu New Bay Area.
Development Goals
The development goals of Penghu County are to provide "BEST," which stands for Beautiful, Ecological, Smart, and Tourism. In response to Taiwan's overall development plans for 2026, Penghu County has set the development objectives of "adding value to the agriculture industry," "sustaining the low-carbon industry," and "internationalizing the tourism industry." Adding value to the agriculture industry involves adding value to agricultural and fishery products to increase revenue. In addition, Penghu County's tourism resources and related plans will be combined to develop a complete agriculture and fishing industry chain for the county. Sustaining the low-carbon industry, means that low carbon policies stipulated by the central authorities will be adopted to plan appropriate energy and wind power zones. Moreover, appropriate plans to oversee land use will be introduced to promote renewable energy power facility-based research, development, and manufacturing, facilitating low-carbon industry development. Also, tourism-related industries will be strengthened and integrated, and regional and free economic pilot zone-based policies will be designed to increase land use diversity. Finally, special areas for the finance, healthcare, agriculture, and fishing industries as well as those for land use purposes will be planned, to transform Penghu County into an international ocean island, to benefit tourism in Penghu.
Infrastructure
Comprehensive infrastructure
The new Magong Airport terminal has officially opened, and two outlying island airports are currently in operation, servicing airlines including UNI Air, Far Eastern Air Transport, and Mandarin Airlines. A total of eight air routes are available, with as many as 150 daily flights to and from the other parts of Taiwan. In addition to convenient air transportation from Magong Airport, Penghu County offers frequent ocean transportation and complete land transportation, which enable the public to easily travel between different regions. Many major construction projects have started over the past decade, including. Taiwan's first-ever desalination plant, Taiwan's only underground reservoir, fossil fuel power stations, and the Penghu New Bay Area. These important constructions make Penghu County more attractive to potential investors.
Land Use and Facilities
Penghu County's urban land has been divided into five urban planning areas measuring a total of roughly 773.4 hectares, which account for 6.8% of the county's total land. The plans are divided into city plans, township plans, and special zone plans. Of the five planning areas, approximately 50 hectares of land have been allocated for use as industrial areas. There are approximately 11,163 hectares of non-urban land in the urban planning area, accounting for 93% of the total land area registered in the county. The non-urban land is divided into eight usage zones and 18 land types pursuant to the "Regional Plan Act" and the "Regulations on Non-urban Land Use Control." Examples of the usage zones and land types include general agricultural zones, rural zones, and forest zones. Most of these zones have not been developed or used, making them suitable for investments.
Industrial and Commercial Developments
In Penghu County, the wholesale, retail, hospitality, and catering industries account for the most profit-seeking enterprises, in which the wholesale and retail industries generate the most revenue, followed by the transport, warehousing, hospitality, catering, real estate, and construction industries. Together, they account for 90% of the revenue generated by the county. Bed and breakfasts showed the most significant change, where the number of bed and breakfasts increased from 146 in 2013 to 475 in 2016. Of the wholesale and retail industry, the retail of tobacco and alcohol produces the most sales and generates revenue slightly higher than that of the hospitality and catering industries. This shows the success of Penghu County's policies introduced to promote the development of its tourism industry and the establishment of duty-free shops. Penghu County's traditional industries include the fishing, food processing, and retail industries, which sell mostly canned, frozen, dehydrated, and pickled foods. These industries play a major role in the development of Penghu County's tourism industry and economic activities.
Well-known domestic and international companies can be found in Magong, the most prosperous city of Penghu County. The said companies include McDonald's, Daiso, Workinghouse, Watsons, Cosmed, and Poya.
Wind Farm Developing Potential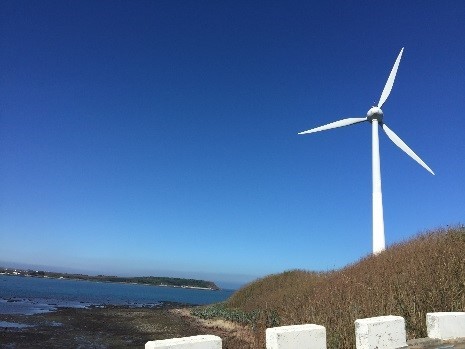 Penghu County's low-carbon island project was introduced to develop its low-carbon industry and assess the land demand for developing a green energy industry. Wind power generation is undergoing active development around the world due to its environmental friendliness and resource sustainability, lack of pollution, economic benefits such as attracting tourism, and mature technologies and cost-effective renewable energy power facilities. The Penghu region possesses a wealth of wind resources. Accordingly, wind farms and energy zones will be established in the Huxi Township, Baisha Township (Houliao Village), Zhongtun Village, and Kuibishan to facilitate the research, development, and manufacturing of renewable energy power facilities, in order to develop the low-carbon industry.
Penghu County Tourism Development Potential
"Scattered Pearls", the 90 beautiful ocean islands

Basalt landscape and local culture, potential for the establishment of geological parks.

Portal to studying ancient civilization, history, and past wars

Comprehensive domestic and international transportation system

Special policies for tourism development in outlying islands (e.g., duty free policies and international resort policies)
Four Points by Sheraton Penghu, the first international hotel chain in Penghu, opened its doors in March 2016. The hotel employs maritime elements in its main design, in which Penghu County's island landscape is joined with its local culture to create a mesmerizing appeal. Externally, the enclosed, L-shaped design of the hotel can be observed from a distance. The hotel is expected to open a new chapter in Penghu County's tourism industry.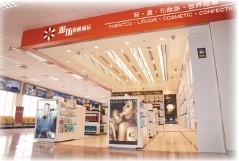 The Huafu Group plans to build a five-star resort in Chongguang Village, Magong. The resort will occupy approximately 4.5 hectares of land and is scheduled for completion in April 2018. The resort will be 2–4 stories tall and will contain 355 hotel rooms, which will include 143 deluxe hotel rooms with a private patio. In addition to a variety of dining, fitness, and recreational facilities, churches built on water a Penghu speciality will be created, to transform Penghu County into an important tourist landmark.
The construction of duty-free shops in the outlying islands has contributed considerably to the significant increase in the number of tourists to Penghu County in recent years. It has also improved the attractiveness of county's tourism and its international competitiveness. This will enable the county to build its tourism and shopping brands, optimize its tourism consumption structure, and expand its tourism industry to the international market, thus helping the island become an international tourist attraction.
Penghu County is surrounded by the sea and features numerous islands and beautiful scenery. Most of Penghu County's natural landscape has not been spoiled by human activity, and its pleasant environment has attracted many sporting events, such as the Penghu regattas, ironman triathlons, and Far Eastern Air Transport marathons, which are held to promote Penghu County's tourism industry.
The program known as the Comprehensive Hotel Construction in Magong's Third Fishing Port, Penghu County, will involve the building of duty-free shops, restaurants, swimming pools, gymnasiums, and cinemas. The construction project is scheduled for completion and operation in 2018. Located in the vicinity of the Nanhai Wharf and the Nanhai Tourist Center, the hotels will drive Penghu County's tourism industry, facilitate regional prosperity, and promote the development of the Penghu New Bay Area, drawing more tourists to Penghu County.
Regarding Penghu County's "Duxing 10th Village" Military Dependents' Village-based Culture Preservation Park Construction and Operation Transfer Project, the base's buildings have been registered as historic buildings. The construction and management objectives of the project will be to generate revenue while maintaining the land and building facilities, preserving historical buildings, hosting permanent art exhibitions, showcasing the characteristics of military dependents' villages, introducing Duxing 10th Village's history and building features, creating platforms for art and themed special exhibitions, art creation events, and merchandise sales, providing simple dining services, and offering hospitality services related to military dependents' villages.
In 2014, Penghu County's "Taiwan Penghu Bay" was named as one of the Most Beautiful Bays in the World (MBBW), and earned the right to host MBBW's annual conference in 2018. Penghu County will use "world's most beautiful bay" as its marketing theme and employ various marketing strategies to actively expand its domestic and foreign business and tourism markets.
For more information on industrial land use, please visit the Taiwan Industrial Land Supply and Service Information website maintained by the Industrial Development Bureau, Ministry of Economic Affairs.
Publication Date:11/14/17
Commercial and Industrial Development Section, Economic Affairs Department
Contact person
Title
Telephone
Email
Fax
HUANG, BO-ZHANG
Section chief
886-6-9274400#340
fa25300@mail.penghu.gov.tw
886-6-9277886
WANG, YANG-QI
Professional temporary staff
886-6-9274400#339
fa95840@mail.penghu.gov.tw
Publication Date:11/14/17
Investment Item
※Click on below item for more details