Taichung City is located In Central Taiwan and features vast tracts of farmland, a beautiful climate, a wonderful mix of cultures, and an array of agricultural produce. The economic development of the Greater Taichung area has become a key focus of the public after Taiwan's municipal upgrades (i.e., the county–city mergers). In terms of its economic structure, Taichung City consists mostly of tertiary industries, with several department stores, distinctive shopping districts, colorful boutique shops, European-style business districts, and artistic restaurants. This fosters a sense of elegance and romance that rivals those of Avenue des Champs-Élysées in Paris. In addition, the public is able to pursue the most recent fashions, transforming the city into a true consumption-oriented city.
In recent years, the Taichung City Government has implemented a variety of measures, such as constructing the Dadu Mountain Technology Corridor, connecting together major science parks including the Houli Science Park and Taichung Science Park (of the Central Taiwan Science Park), the Taichung Precision Machinery Science and Technology Innovation Park, and the Fengzhou Science and Technology Park. It has upgraded and transformed the Taichung Industrial Park, developing a low-pollution, high-tech, high-value investment environment for various industries. This has created a favorable working environment to provide knowledge and skill-oriented employment opportunities, attract people from surrounding technology regions and drive the development of the local industry. As well it enhances Taichung City's industrial growth, increases international product competitiveness, and establishes a strong foundation for future technological and industrial development.
In regard to the commercial and service industries, the Taichung City Government has taken into account a variety of factors such as the services offered by Taichung City to other cities and counties in central Taiwan. As well the globalization of the Taiwanese economy and industries, the influx of Chinese visitors and subsequently offered counseling services to specialized local industries. Taichung introduced a marketing plans for the Taichung International Economic and Trade Park and international marketing plans for local industries, and helped small and medium-sized businesses upgrade their technologies. Concurrently, Taiwan will become a hub for operations in the Asia-Pacific region, in which it will use its industry advantages to accelerate the development of its internationally diverse, commercial and business industries, thus improving the industry structure and standards. The Taichung metropolitan area has shown remarkable potential for future development, which has enabled it to attract many workers from other regions in recent years. Continued major public projects such as the construction of elevated railways, the Taichung MRT system, and roads in Taichung City's surrounding areas have and will enhance citizens' quality of life, improve the city's environment, attract foreign investment and stimulate consumption.
Publication Date:11/10/17
Infrastructure
Transportation Network
Taichung City is located in the hub of East Asia. The construction of the Taichung International Airport means that trips between Taichung City and 21 cities from Southeast Asia, Japan, South Korea, and China only take a maximum of four hours. Taichung possesses a wealth of culture and is home to the Central Taiwan Science Park (which features remarkable innovative capacity), which means that culture, aesthetics, and economic development can excel side by side bringing new vitality to the city of Taichung.
The integration of the Taiwan High Speed Rail (THSR) and other mass rapid transit systems have allowed northern, central, and southern Taiwan to form a well-connected "band" and provide convenient transportation between the regions of Miaoli, Taichung, Changhua, and Nantou, in which tourists can plan one-day visits to tourist attractions along the mountain-side railway line.
THSR Taichung Station is located in the Wuri District, close to the Wuri Brewery and Chenggong Hill Military Camp. Taichung City's Freeway 1 (running in the north–south direction) and Provincial Highway 74 (running in the east–west direction) facilitate travel between Taichung City and the regions of Tanzi District, Beitun District, Dali District, Taiping District, Fengyuan District, and Changhua. Boulevards and provincial highways running in the east–west direction include Taiwan Boulevard and Provincial Highway 1, providing access to the areas of Qingshui District, Shalu District, and Central Taiwan Science Park.
The Taichung MRT Green Line starts near the No. 2 Bridge (on Songzhu Rd., Beitun District) in the east and ends at the THSR Taichung Station, passing through Songzhu Rd., Taiwan Railways, Beitun Rd., Wenxin Rd. Sec. 4, Wenxin Rd., Wenxin South Rd., Chung Shan Medical University, Jianguo Rd., the viaduct on Huanzhong Rd., Provincial Highway 74, and Fazi River. This line is directly connected to THSR Taichung Station and Taichung City's sub-city center transportation system, and will help drive the development of the greater Taichung metropolitan area. The line will be open for test operations in 2018 and will begin official operations in 2020.
Convenient transportation is key to urban development. To make the lives of citizens and tourists more convenient, the Taichung City Government is actively planning the MRT system, incorporating it into the existing bus system, and establishing the Taichung City living circle as the focus of development. These endeavors will offer easier travel for visitors, and help them see the beauty of Taichung.
The Nine-dimension Transportation Network comprises several elements: Freeway 1, Freeway 3, and Provincial Highways 61 and 63 are closely connected, whereas Provincial Highway 74 and the Special No. 3 Road link the cities in the east and the west, providing unimpeded inland and coastline traffic. The opening of the THSR has allowed travelling between Taichung City and all other parts of Taiwan to takeone hour at most. In addition, the integration of the THSR and the Taiwan Railways has created more convenient and diversified services. Taichung City is becoming a hub for economic development, high efficiency, and high speed.
Power Generation
Taichung Power Plant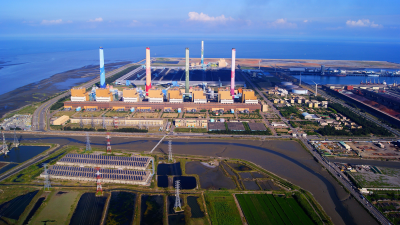 Currently, the Taichung Power Plant has 10 coal-fired steam generators, four emergency gas turbinegenerators, and three wind turbines. ach coal-fired steam generator, emergency gas turbine power generator, and wind turbine generates 550,000, 70,000, and 2,000 kW of rated power output, respectively. In addition, there are two solar-powered photoelectric systems, which respectively generate 72 and 1,500 kW of power. Together, the generators and systems yield 578,757.2 kW of power, making the power station a world-class large fossil fuel power station.
Dajia River Power Plant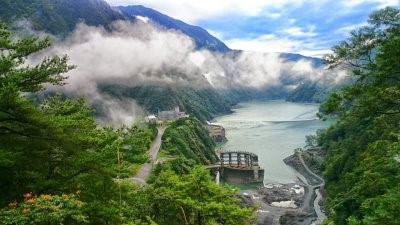 August 1996, theTaiwan Power Company integrated the six power plants powered by the Dajia River (i.e., the Techi, Qingshan, Guguan, Tianlun (including Xintianlun), Ma'an, and Sheliao Power Plants) and one that was powered by the Daan River (i.e., the Bainian Houli Power Plant) to form the Dajia River Power Plant. This power plant is currently the largest conventional hydraulic power station in Taiwan and features a total capacity of 1.1 million kW or above, and has an annual power generation capacity of 2.6 billion kWh. In addition to generating power, the power station, which includes five major dams and seven plants, contributes to flood control, flood detention, irrigation, and the water supply for the science and technology industry and general public in the Taichung metropolitan area. Thus, the power station is a cornerstone of central Taiwan's agricultural, industrial, commercial, human culture, and economic developments.
Water Utilities
To enhance the quality of drinking water, value-added water resources, and reduce the risks associated with drinking groundwater, the Taichung City Government closely follows current tap water pipeline burying policies, surveys existing requirements among residents towards water pipes, and confirms the public's demand for water before preparing the budgets for water pipeline burying projects on a yearly basis. According to the latest statistics, the tap water penetration rate and growth rate in Taichung City has been ranked the highest among the six special municipalities in Taiwan over the past few years.
In recent years, due to the vigorous development of Taichung's industries and the corresponding increase in the demand for water, it has been estimated that the existing water supply system will not be sufficient for the public's long-term water requirements in the future. Accordingly, the Water Resources Agency of the Ministry of Economic Affairs has continued to promote the Daan and Dajia Rivers Water Resource United Development Project in order to diminish the negative effects of turbidity in the Dajia River, as well as the effects of the large-scale industries stationed around Taichung (e.g., the Central Taiwan Science Park) on water shortages. The objective is to stabilize the water supply in the Taichung area.
This project is expected to increase the public water supply of the Taichung metropolitan area to 280,000 tons per day during normal periods, and will provide a reserve water supply of 800,000 tons per day during high turbidity days. By joining the Daan River, Dajia River, tap water supply system, and Daan River's Houli Canal Unit into one continuous system, the region's abilities to conserve and transfer water will be improved.
A Convenient and Comfortable Living Environment: Promoting a "Smart City"
Taichung City's Smart City Policies and Development Strategies
Modern urban development can attract a large number of people to a city. However, this creates a variety of problems such as traffic congestion, water pollution, and air pollution. Thus, it is important to first identify methods to utilize ICT technologies and integrate innovative services, in order to solve these problems and create "people and living-oriented" livable cities. The development strategies adopted by the Taichung City Government to develop Taichung City into a smart city can be divided into various dimensions, some of which are explained below:
Strengthening and Promoting Organizations
By taking advantage of the convenience and ubiquity of ICT devices, the Taichung City Government has actively developed various services and applications to bridge different domains. To enhance the effectiveness of implementation and facilitate cross-domain integration, the Taichung City Government plans to promote its Information Center to become a First-Level "Digital Governance" Agency, which will engage in activities such as cross-office communication, coordination, integration, and promotion. To strengthen public and private sector partnership relationships and establish a "Smart City Promotion Committee," the Taichung City government has invited industry, government, and academic representatives to provide Taichung City with recommendations and developmental guidelines for "basic communication infrastructure, information safety, digital service, and open government."
Disaster Prevention and Response and Transportation Services as the Foundation to Build a First-Stage Integrated Operating Platform
To improve communication, coordination, and information resource integration between government agencies, and to increase the city government's overall service efficiency, the Taichung City Government is currently planning the establishment of a "smart response and traffic control center." The first stage will be based on disaster prevention and response and transportation services. In addition to vertically integrating the resources from the Police Department, Fire Bureau, Water Resource Bureau, Transportation Bureau, and Research, Development, and Evaluation Commission, IoT and big data analyses will be vertically integrated to improve public services and assist the city government in decision making. Planning for the pilot system was completed in 2016, and system platform construction will proceed in 2017. Test operations will begin after the platform is finished in March 2018. The official implementation is scheduled for May 2018. This project will also serve as the city's pilot Shuinan Smart City demo site plan. In addition to smart transportation services, the project will contribute to the realization of smart living applications and digital city governance.
Building the Taichung Gateway as the Smart City Demo Site
Taichung Gateway was originally an airport covering an area of 254 ha. This is one of the few development bases in the world that is located in the city center, has a high population density, and has convenient transportation. After the airport was moved, the city government initiated its development plan. Low carbon, smart implementation, and innovation were selected as the core development values. The main building projects include the 60-ha Taichung Central Park, water resource recycling center, transfer station, international exhibition center, Taichung Green Museumbrary, intelligent operation center, and the Central Taiwan Cinema Center. IoT, smart parking, smart businesses, smart shared traffic signals/light poles, and smart building concepts would be applied. The Intelligent Operation Center (IOC) building will include the IOC, the Digital Cultural Center, and the Industry 4.0 Center. These centers will follow the vendor recruitment plan of the research area to form a centralized economy and to create a global capital of smart machines alongside the neighboring aerospace and precision machinery industries. Smart production, smart living, and a park-based ecology will be used to build the smart city demo site, to further promote the project to the international community.
Description of the City's Current Smart City Policies and Implementation Examples
Smart Policing
One change that has been quite obvious in Taichung City is the removal of its stereotype for poor public safety. The city government has enacted the "scientific investigations" and "investigation and prevention" policies. Consequently, over the last two years, objective safety indicators have shown that Taichung City has the lowest crime rate among the six special municipalities. Taichung City is also number one among the six special municipalities in fighting scams, drugs, arresting fugitives, and eliminating illegal firearms. Most importantly, city residents feel that safety is improving, with surveys showing that more than 70% of residents feel that the city is safe. This is a new high since the integration of the city and the county.
Smart Disaster Prevention
To implement effective disaster prevention through smart technologies, the Taichung City Government's Water Resource Bureau has built a floodwater mobile app. This app utilizes technology and information to improve the city's passive disaster prevention by providing active early warnings and evacuation. The app works with collaborating governmental units to reduce losses from disasters and improves the government's capabilities in disaster prevention and rescue. In addition, the government has plans to build a "smart response and traffic control center." This will serve as a horizontal cross-unit cooperative operation command center. Vertically, the center will interact with city residents in order to share information and achieve the vision of a "living-oriented city."
Smart Aging
Taichung City is hosting the 2018 World Flora Exposition and 2019 East Asia Youth Games. Therefore, the city is planning to establish a "non-profit organization and volunteer center." The city will also utilize the original Taiwan Province Consultative Council to build an international non-government organization (NGO) park and move towards becoming the national capital of volunteering. To respond rises in the elderly population and demand for long-term care, the Taichung City Government has integrated social welfare, medical care, mental health, health promotion, and preventive care services to form a "neighborhood care team," and has established a "neighborhood care cloud platform." Volunteers and these platform services can be used to spread government services to disadvantaged groups into the community, as well as allow the government to determine the needs of underprivileged minorities, in order to achieve the objective of "one neighborhood, one care." In addition, the Taichung City Government is currently promoting the "end-to-end elderly care" policy to realize the concepts of healthy aging and "aging in place." Taichung City is actively building preventive care services and encouraging elderly residents to learn, to help them stay active in their old age. The city information center has integrated Taichung City's existing senior citizen adult education programs, senior citizen mobile classrooms, elderly learning centers, free computer classes, and other elderly learning resources, and is expected to establish an integrated senior citizen course inquiry platform in 2017. This will help turn Taichung City into a senior citizen-friendly city.
Smart Environment
The Taichung City Government has established an "air box" open information platform. Overall, 232 public elementary schools have been set up with these air boxes, which collect air quality data in the city. The air boxes, when combined with IoT technology, contribute to the implementation of environmental education. It also corresponds well to the central government's "digital country, innovative economy" smart city and village plans. Taiwan's expansive air quality network, smart transportation system, and the establishment of air quality sensor locations are used to conduct environmental testing and big data analyses. As a consequence, localized air quality information can be provided in real time. Air quality forecasts can be delivered down to the township and village level, which can help reduce the public's driving times, saves gas, reduces CO2 emissions, and lowers the number of car accidents and injuries.
Smart Transportation
Since 2016, the Taichung City has planned the Taichung City Transportation Operation & Information Service (TOPIS). This includes system integration and information collection/analysis regarding road networks, transportation tool management, parking, towing, and traffic maintenance systems. The first-stage system was built in 2017. The city also coordinated with the "smart response and traffic control center" in interfacing and applications. A "smart bus network" was also constructed. The first stage will test the bells on one route, with a mobile app used to send bus information. The information will be uploaded to the buses, which will be equipped with lights to remind drivers to stop at stations to pick up passengers. This can prevent buses from skipping stops, help visually impaired people take buses, and achieve smart transportation objectives.
Smart Industry
To promote industry upgrading and follow the central government's promotion of the "5+2" industry policy, the Taichung City Government has initiated various projects, including the establishment of the "Central Taiwan Industry 4.0 Industry-Government-Academic Research Alliance" and the "A-I-M aerospace Machine Industry Technology Alliance." Seminars were held during these projects, and industry self-governance regulations were passed. Industry development foundation subsidies were planned in order to help local companies develop industry 4.0 technology. "Links with the future, international communities, and local communities" is used as the main theme, and the resources of the industrial, government, academic, and research sectors are integrated to turn Taichung City into a model for promoting smart machinery industry development. The Taichung City Government is actively promoting industry cooperation, including establishing the Smart Machinery Academic Research Committee and the Smart Electric Car E-Team Industry-Government-Academia Alliance. Promotional efforts saw results in the establishment of the aerospace A-team, the signing of a memorandum of understanding (MOU) between HIWIN Technologies Corp and Siemens, and signing of an MOU between this government and Philips. The Taichung City Government has also enacted policies to encourage entrepreneurship, including establishing central region youth innovation bases, organizing Taichung/Changhua/Nantou/Miaoli local SBIR joint result exhibitions, and holding national creative awards to promote corporate matchmaking. The objective is to speed up the promotion of smart industries.
Publication Date:11/10/17
Economic Development Bureau, Taichung City Government
Address: 5F, No. 99, Sec. 3, Taiwan Boulevard, Xitun Dist., Taichung City 40701, Taiwan (R.O.C.)

Phone: 886-4-22289111 ext.31116

Fax: 886-4-2220-3459

Official Website (Chinese Only)
Publication Date:11/10/17
Investment Item
※Click on below item for more details